Overview
Do you want to take Kanban further and achieve more?
Take the 2-day Kanban Management Professional (KMP-II) training and learn advanced topics of the Kanban Method, how to manage Kanban day to day, how to harness the power of feedback loops, and how to operate at scale.
Certified by Lean Kanban University (LKU), this 2-day advanced Kanban course (taught in Portuguese or in English) provides the knowledge and skills you need to manage the rollout and daily operations of a Kanban system, and how to improve agility using asymmetrical commitment and cadences.
The KMP-II class is also your step 2 in earning the Kanban Management Professional (KMP) Professional Credential from LKU.
Being a Certified Kanban Management Professional is a reflection of your ability to implement and successfully manage outcomes of the 'alternative path to agility': as a KMP, you will be expected to contribute to problem-solving, manage flow, promote collaboration and experimentation, and reduce bottlenecks to help improve organizational agility and deliver superior quality end products and services.
When will this course take place?
Where will this course take place?
Usually, our public courses are held in Paredes or Paços de Ferreira, in the North of Portugal, where our main office is located.
When organizing public courses we take care of all the logistics for you: training room, a nice hotel room with break-feast included, lunches, coffee breaks, and a nice evening for all participants to know each other, mingle and establish great personal relationships. You just have to bring yourself with your open mind and good mood.
When organizing private courses for Clients or Conference organizers, all logistics costs are borne by the Client, including our travel expenses and hotel accommodation(s). Therefore, we are open to negotiating special rates in advance.
Who should attend?
Managers and Team members who are currently using a Kanban system, have prior experience with Kanban or are currently in the KMP training series.
What do I need to know before attending?
How much will I invest?
Time: 2 days (16 hours).
Price: 1.200 EUR per person + VAT for public courses held near our office in the North of Portugal.
Special prices are available for groups (3 or more people from the same organization), Conference organizers and, of course, to all our Coaching & Consulting Clients.
What will I achieve by completing this training?
You will learn:
How to manage a Kanban system on a day-to-day basis.
The 7 Kanban cadences and how to build information flow.
How to deal with resistance to work-in-progress (WIP) limits.
A values-based approach to introducing Kanban.
The concept of asymmetrical commitment.
You will gain hands-on experience in:
Developing a service orientation within your organization.
You will develop the skills to:
Roll out a Kanban initiative in phases.
Improve agile initiatives (such as Scrum or XP) with Kanban.
Manage evolutionary change for your organization.
What topics will be covered?
This 2-day hands-on course follows the official Lean Kanban University (LKU) training materials produced by David J Anderson, Mike Burrows, and other leading Lean Kanban experts: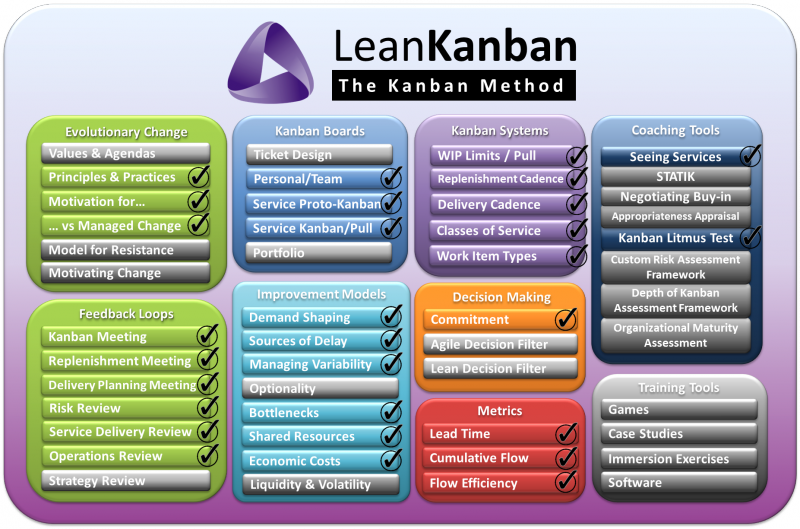 What value will I get from this course?
Lifetime access to all KMP2 e-learning materials produced, or to be produced, by IOSAE (on this website).
Training certified by the Lean Kanban University (LKU) through an Accredited Kanban Trainer (AKT).
A Kanban Management Professional (KMP2) Certificate of Completion from the LKU.
Step 2 in earning the Kanban Management Professional (KMP) Professional Credential from the LKU:
An LKU Membership and a listing in the LKU Alumni Directory.
Eligibility for special invitations, discounts, and content only available to LKU members.
A digital copy of the book Kanban by David J. Anderson, or Kanban from the Inside by Mike Burrows.
16 SEUs (Scrum Educational Units) towards your CSP (Certified Scrum Professional) by the Scrum Alliance.
16 PDUs (Professional Development Units) towards your CCR (Continuing Certification Requirements) by the PMI.